Are you a college student looking to learn from inside the industry rather than bookish knowledge? Then you must probably know that internships are a great way to gain real-world experience in a professional environment. They provide a chance for you to explore your career path and obtain relevant industry insight that you can add to your resume.
However, physical internships have proven to be quite difficult in current times. The reason could be the location or your never-ending college hours. So how do you go by gaining experience? This is where remote internships come into the picture.
What are remote internships?
Remote internships are a brand-new era of opportunities. They are similar to traditional internships, the main difference is the location. You don't have to commute to a specific place at a specific time. All you need is a reliable internet connection and determination to learn.
You can work from any location at any time. You'll also have the opportunity to interact with people across the globe and build a professional network before you graduate. Remote internships allow you to be evaluated based on your performance and not on how long you've worked. All in all, they're an excellent way to acquire industry knowledge that cannot be grasped in the classroom. Moreover, these internships can be done during any year of your education.
Many start-ups are looking for additional bandwidth to complete projects within tight deadlines. In such a situation, hiring an employee who needs to be trained before stepping into the project does not meet the requirements of project managers. They prefer skilled engineers who can join the team and get working on the project with little to no supervision.
Crio's curriculum and way of learning set you up to be the skilled engineer companies look for in remote internships. The internship-grade projects you build during your learning program enable you with the real work experience you need to take on such opportunities. And since these roles are open to engineers based on skill rather than years of experience, it fits the bill perfectly for students.
Although you may not find companies posting about remote internship roles, you can land an opportunity by putting yourself out there, in the market.
How do you do that? Let's find out in the next section.
5 fresh strategies to land a remote internship
The strategies covered below have been tried and tested by students like you who have been part of Crio's programs. Try each form of approaching a company and be assured that one of these strategies will click for you.
1. Reach out on LinkedIn
As we all know, LinkedIn is a platform that centers on professional networking and career development. Reaching out to companies on LinkedIn could be a great way to start looking for internships. But, don't just drop a message to them just yet. Get in touch with companies on LinkedIn with a killer cover letter.
List the skills you know and mention the projects you've built to gain those skills. A simple pitch such as -- "I have practical skills in X, Y, Z. I acquired these skills by building A, B, C." can go a long way in grabbing the recruiter's attention, rather than just dropping by your resume and expecting a callback/reply from the company.
If you don't have solid projects to back your skills, your resume won't really matter to the recruiter.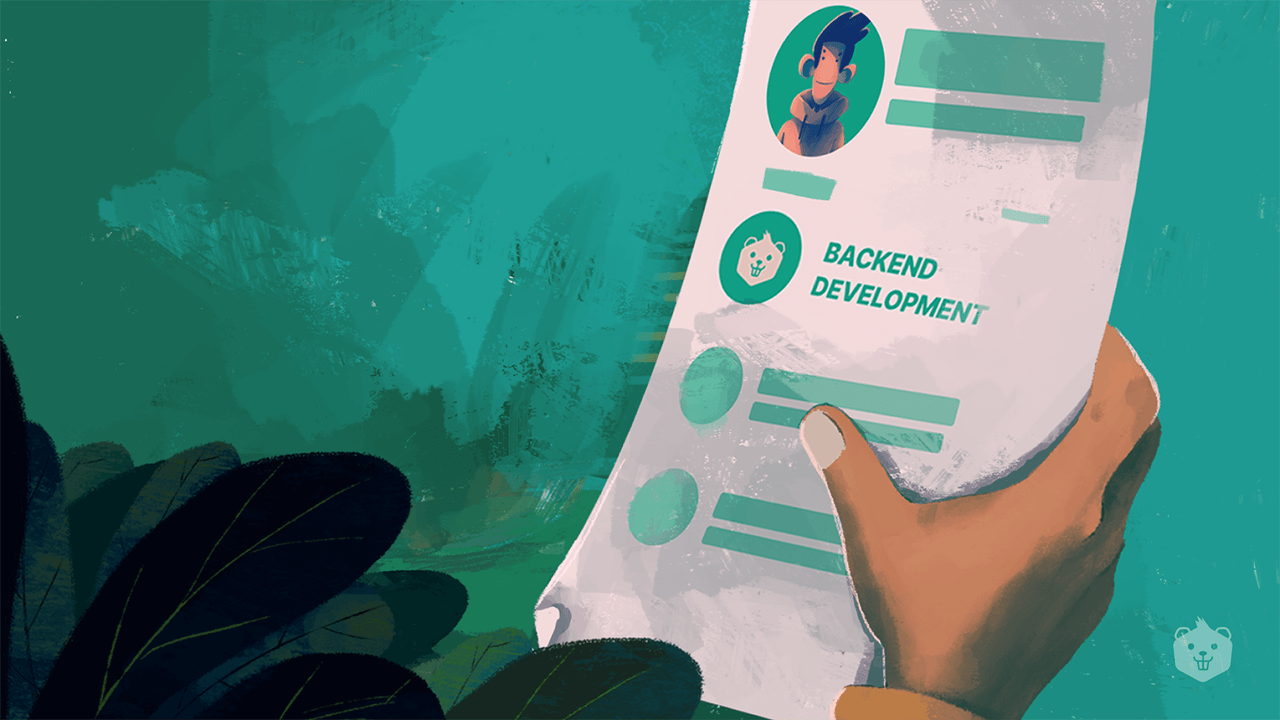 2. Scan through AngelList
If you know what venture capital is, you might be familiar with AngelList. This site assists young professionals with stellar opportunities to work in growing start-ups. As compared to traditional organizations, working for a start-up company can be quite an enriching experience. These companies tend to be more progressive and open-minded. They might offer you opportunities to expand your skills that other companies would have a hard time even considering.
Even if you don't see opportunities related to a remote internship, if a company catches your eye, reach out to them stating your skills and project experience. Pitch why you want to work as a remote intern and how your skills can be beneficial to the company.
3. Connect with CTO's, hiring managers, etc
Best and most rewarding shortcut - expand your network. If you find a company you like, look for people in your network who work there or have previously worked for that company. Ask them for the contact information of the hiring manager or CTO and reach out to them personally.
4. Offer to work for free for a specific amount of time
For start-ups and small-sized companies, offering to work for free demonstrates your spirit to prove yourself without being paid. You might have a greater shot at landing the internship if you show them satisfactory skills and an excellent attitude while working with their team.
5. Reach out to newly-funded companies
Companies with recent funding are usually proactively looking to attract skilled talent. By reaching out to them and showcasing the value you bring to their team, you can potentially open the door to an excellent opportunity. Check out YourStory Startup Funding page for such companies and gain more insights about the company before reaching out to them.
Learn from Crio Grads who have cracked remote internships
Sanchit Mishra - SDE Intern @Cars24
"There are various ways to get an internship opportunity like directly applying at the career portal, participating in the hackathons or challenges, asking for referrals. But looking at the fierce competition now, it is getting difficult to stand out from the crowd when everyone is doing the same thing."
Crio Grad, Sanchit Mishra shares some handy tips that helped him land an internship.
Build your profile
Explore the skills employers are looking for in the role you desire and focus on obtaining those skills. For example, if you look for a Backend Developer internship on AngelList, you'll see that the job descriptions include skills like NodeJS, MongoDB, and AWS. If you wish to land that internship, it is important that you build the necessary skills.
Create an opportunity for yourself
Apart from applying at a career portal and job site, use the underrated but most effective method - reaching out on LinkedIn or cold messaging.
In order to do so,
Prepare a concise message that summarizes who you are, what are your skills, and what you're looking for.
Have proof of how you gained those skills like links to your hosted projects, GitHub profile, and your portfolio along with a link to your resume.
Don't forget to mention that you're ready for a specific task or evaluation. Remember to keep your message clear and to the point.
Once your message is ready, reach out to Founders, CTOs, HRs on LinkedIn.
Reaching out to at least 30 - 40 people on a daily basis increases the chances of you getting a response.
To increase the probability a tad bit, send out the same draft you sent to a person of an XYZ company to another person working there.
Here's a sample message: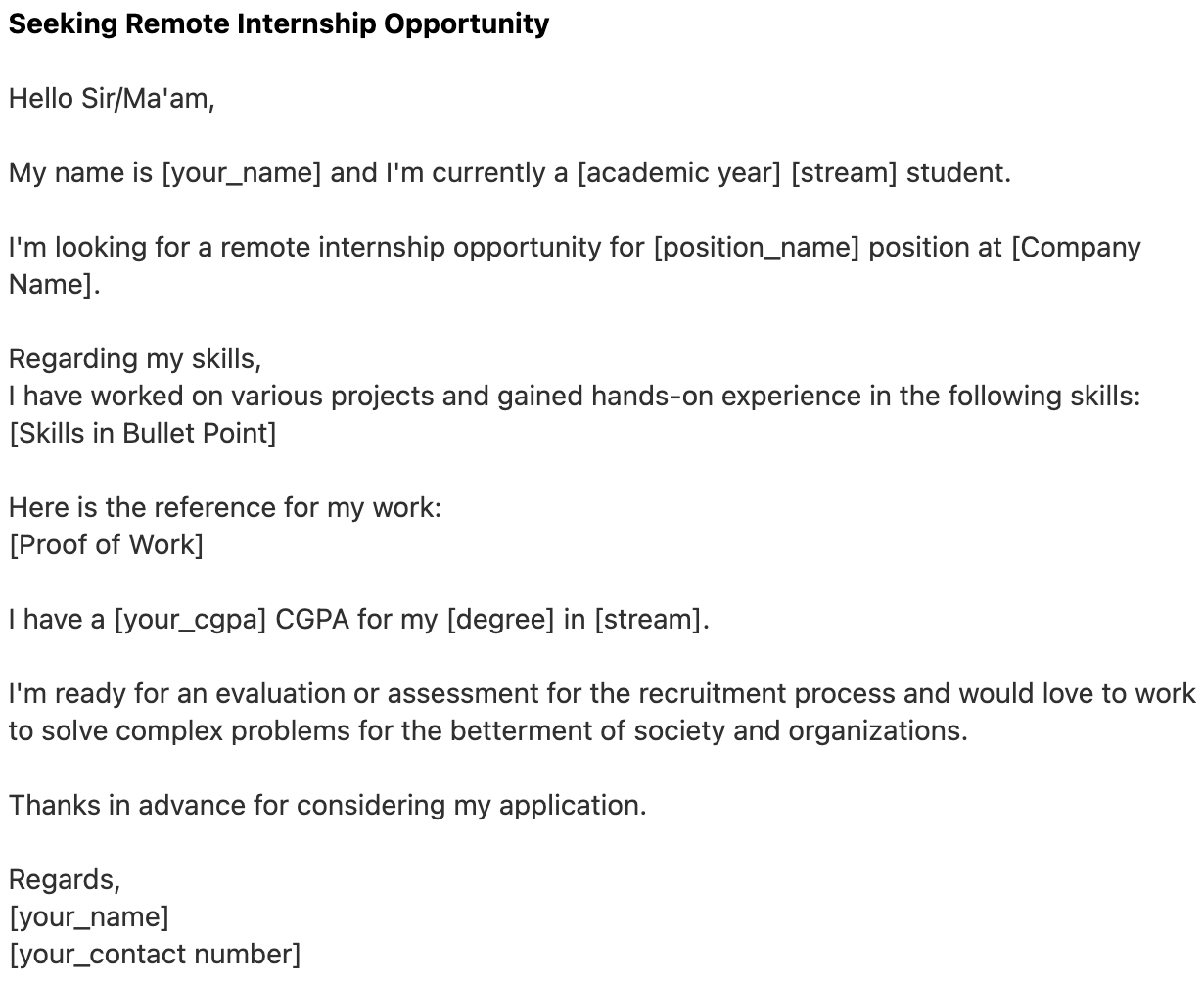 ---
Ranveer Sequira - Software Engineer Intern @Devkraft
"Sell yourself. Let your professional employer know why they should hire you."
Crio Grad, Ranveer Sequira also has a few useful tips to help you land your internship.
Look for companies that already work on the tech stack you're familiar with. For this, search for companies on LinkedIn and/or AngelList. Check out the company website and get some idea about their products to see if it matches your tech stack.
If you're applying for a start-up, reach out to the people working in the administration role like CEOs, co-founders, lead developers, etc. Connect via LinkedIn or send them an email.
While exploring the website, find something you can improve and draft a message accordingly. Here's something you can use:

You can customize this template or create a better one.  
Additional resources