"At present, younger companies are creating new technologies and products whereas,  for the past 25 years, the IT sector in India has taken the services route. Product-based companies are not replicable and ideas with intellectual property rights form its crux that adds an advantage." ~Srikanth Srinivasan, Regional Director of NASSCOM
As the IT industry has expanded swiftly in the 21st Century, product-based companies are considered as the way forward as opposed to service-based companies. This is because product-based companies offer a wide array of opportunities like learning new technologies and working on projects where the learning graph is higher.
What do product-based companies look for in their employees?
Strong foundational knowledge,
Good problem-solving skills, and
The ability to use these skills in the real world.
With hands-on, project-led learning, 1000+ ambitious developers have already landed jobs last year in growing product-based companies. Listed below is our pick on the Top 10 product-based companies in India to work for in 2023.
In this blog, you'll learn in detail about each of the above companies -
what they do,
the tech stack they use, and
their interview process along with useful tips on how to crack the interview.
1. RideCell
RideCell is a digital transformation platform that concentrates on fleets, transportation, and logistics corporations. It provides the technology required to operate a standalone carsharing or ride-hailing operation, or a hybrid service that incorporates both.
"The company encourages a healthy work-life balance. I can personally vouch for it." ~ Gaurav Burjwal, Frontend Engineer at RideCell
It has completed over 20 million rides and rentals and also powers new mobility offerings, like mobility service from the BMW Group, OMNI by Volkswagen, ReachNow, and GIG Carsharing service by AAA (American Automobile Association).
RideCell uses JReact, Redux for Frontend, and Django for the Backend.
"I have studied Java and Spring Boot at Crio but problem-solving skills which I've developed helped me a lot and are still helping. And more than the language/tech stack, the Crio approach of #LearnByDoing helped me to pick up the pace quickly." ~ Gaurav Burjwal, Frontend Engineer at RideCell

---
2. Jumbotail
Jumbotail is an online wholesale marketplace for food items and groceries. Today, the startup helps over 30,000 neighborhood or Kirana shops over India with its full-stack B2B e-commerce design.
The choice of methodology and technology keeps evolving constantly at Jumbotail. For the backend, they use microservice architecture and most of the services are primarily built in Java using SpringBoot, Dropwizard, and Apache Camel. As a relational database, the company uses RDS and as a NoSQL database, they use DynamoDB.
In Jumbotail, the selection and recruitment process for a Software Developer is:
Round 1: DSA
Round 2: Advanced DSA
Round 3: System Design
Round 4: HR
---
3. Groww
Digital investment platforms have been rising significantly in India and there has been a growth in the number of applications arriving in the market. Groww is one such investing platform where users can discover the best mutual funds to invest in and can invest their money without any difficulty.
The tech stack of Groww includes Springboot, React Native, Springcloud, and a microservices-based architecture that allows Groww to scale.
At Groww, the interview process consists of 4 rounds. They are:
Round 1: Online Assessment
Round 2: DSA
Round 3: Advanced DSA
Round 4: Managerial
---
4. upGrad
upGrad is an e-learning platform that provides higher education programs in collaboration with numerous universities. It began with just one program and now has a wide collection of online courses over several fields to help its students not just in India but across nearly 100 nations.
upGrad uses technologies like Vue.js, Nuxt.js, Hammer.js, and, Express.
The interview process at upGrad is generally divided into two rounds.
Round 1: DSA
Round 2: HR
---
5. nurture.farm
nurture.farm is a public, digital platform that drives sustainable agriculture across the world. It nurtures resilient farmers, creating agriculture manageable, profitable, and feasible for ages to come via technology-led solutions comprising each step of the farming life cycle.
"By doing projects in Crio, I learned how to build logic and tackle critical problems. Since I had already implemented many things while building the projects like API integration, responsive design, etc, I'm using the same here."  ~ Sachin Thakur, Front-end Developer at nurture.farm

In nurture.farm, the recruitment process for an SDE is:
Round 1: Online Assessment
Round 2: DSA
Round 3: Advanced DSA
Round 4: Managerial
"The interview prep by Crio really helped me. By completing the program, I had all my basics clear which was helpful during my interviews as well." ~ Sachin Thakur, Front-end Developer at nurture.farm
Check out Crio's career-focussed programs now →
---
6. Ninjacart
Ninjacart is India's biggest fresh produce supply chain organization that is unraveling one of the hardest problems in the world via technology. It connects producers of food directly with vendors, restaurants, and service providers utilizing in-house applications that drive end-to-end operations.
Currently, the Ninjacart Supply Chain is furnished to move 1400 tones of produce from farms to enterprises, every day, in less than 12 hours.
Tech stack used at Ninjacart includes technologies like AngularJS, Bootstrap, Node.js, MongoDB, MySQL, and Dropwizard.
At Ninjacart, there are 4 rounds in the selection process. They are:
Round 1: Online Assessment (Aptitude)
Round 2: Online Assessment (Coding)
Round 3: Technical - 1
Round 4: Technical - 2
---
7. PharmEasy
PharmEasy is a healthcare technology startup established in 2015 that is currently based in Mumbai. The company's offering centers around presenting its consumers with medicine delivery services, healthcare consultations, and the collection of tests from diagnostic samples that are carried out remotely.
The company leverages a lot of Machine Learning and Big Data solutions such as Hadoop, TensorFlow, HBase, Spark, Hive, Kafka. PharmEasy uses traditional RDBMS and NoSQL databases to graph databases.
The interview process at PharmEasy is as follows:
Round 1: Online Assessment
Round 2: Technical - 1
Round 3: Technical - 2
Round 4: Technical - 3
---
8. Grab
Grab is one of the most dominant super apps in Asia, offering rides, food delivery, and financial services. This includes loans, insurance, payments, and investments - all accessed through a mobile phone app.
Prepare for the below rounds and crack the interview for Software Engineer at Grab.
Round 1: Online Assessment
Round 2: DSA
Round 3: Advanced DSA
Round 4: Managerial
---
9. Shiprocket
Shiprocket is a tech-enabled logistics platform that allows domestic and global transportation for marketplace retailers and direct-to-consumer (D2C) e-commerce enterprises. Since its launch, it has procured over 200 clients and manages deliveries of 1.5 Lakh orders per month.
Shiprocket uses 106 different technologies from 10 different vendors including technologies like Atlassian JIRA, Angular, and Google Apps.
---
10. Quizizz
Quizizz is an education-based software that provides engaging gamified quizzes and interactive exercises to help people teach or learn anything. The software is used in class, pre-test review, group assignments, pop quizzes, and formative assessments.
At Quizizz, the interview process is of 4 rounds. They are:
Round 1: DSA
Round 2: System Design - 1
Round 3: System Design - 2
Round 4: HR
---
Want to work in a Product Based Company?
If your dream is to be a Software Engineer, Backend Engineer, Full Stack Developer in a product-based company, you are one step closer to achieving your goal by reading this blog.
Crio has helped hundreds of aspiring developers (just like you) to land their dream job with an excellent hike in their CTC.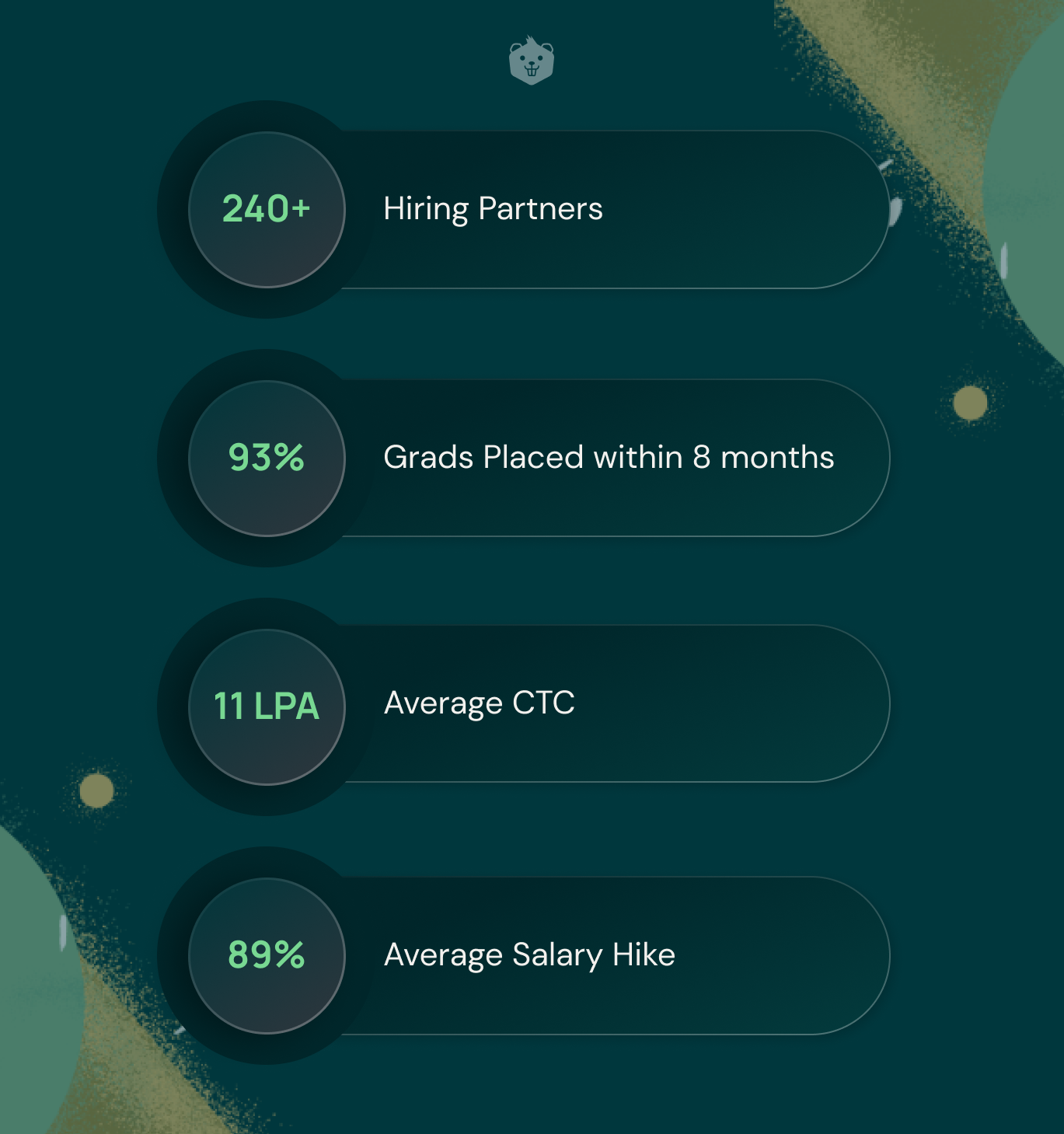 Crio grads have come from different backgrounds and have a common goal. A goal to secure a fulfilling software role in a high-paying product-based company.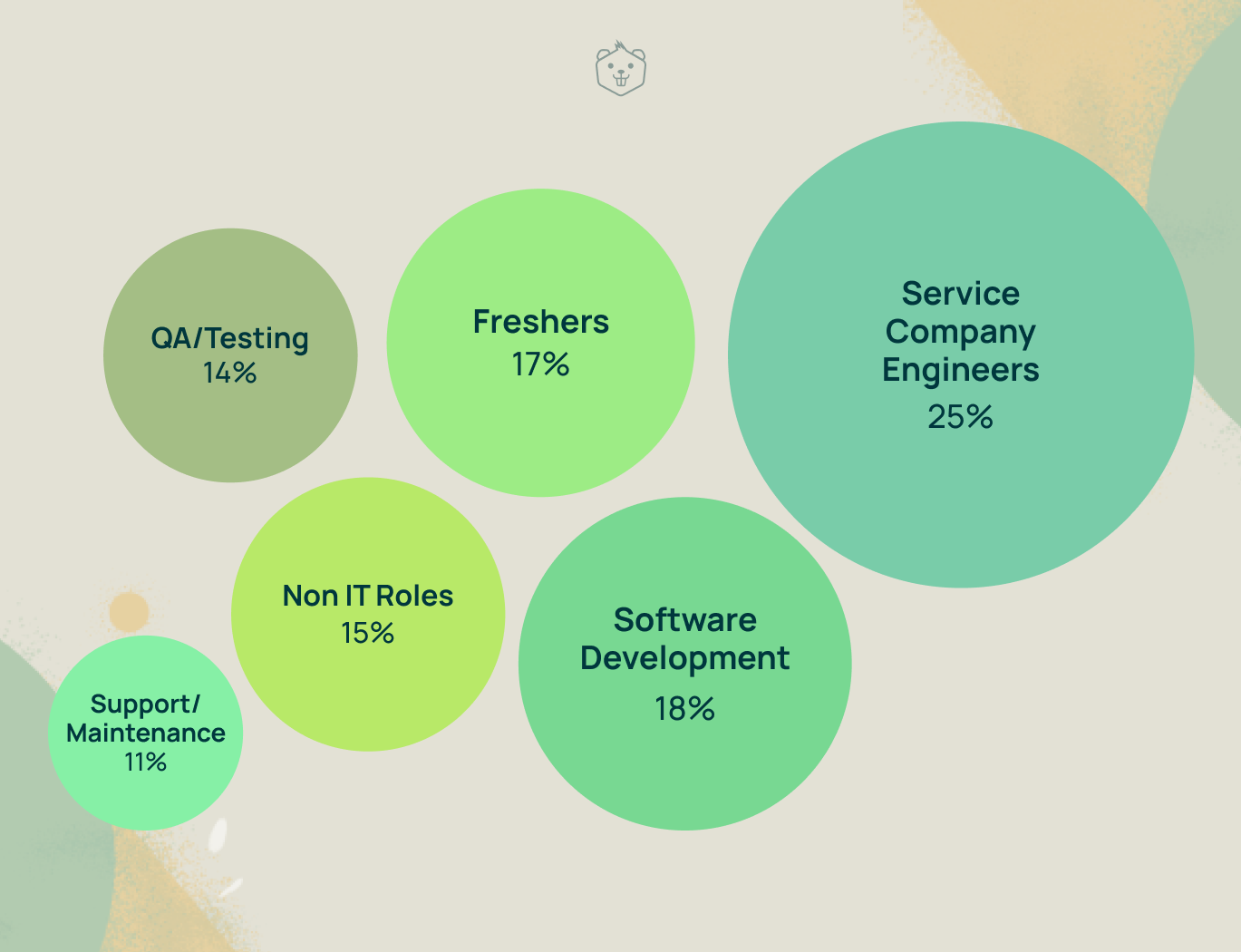 Don't just take our word for it, check out what our Crio grads have to say about their learning experiences:
Watch More Stories
If you relate to the dreams and goals of Crio Grads who have achieved success in just 6-8 months, take a step closer to making it a reality for yourself →
Want to know more about other product-based companies listed in the image below?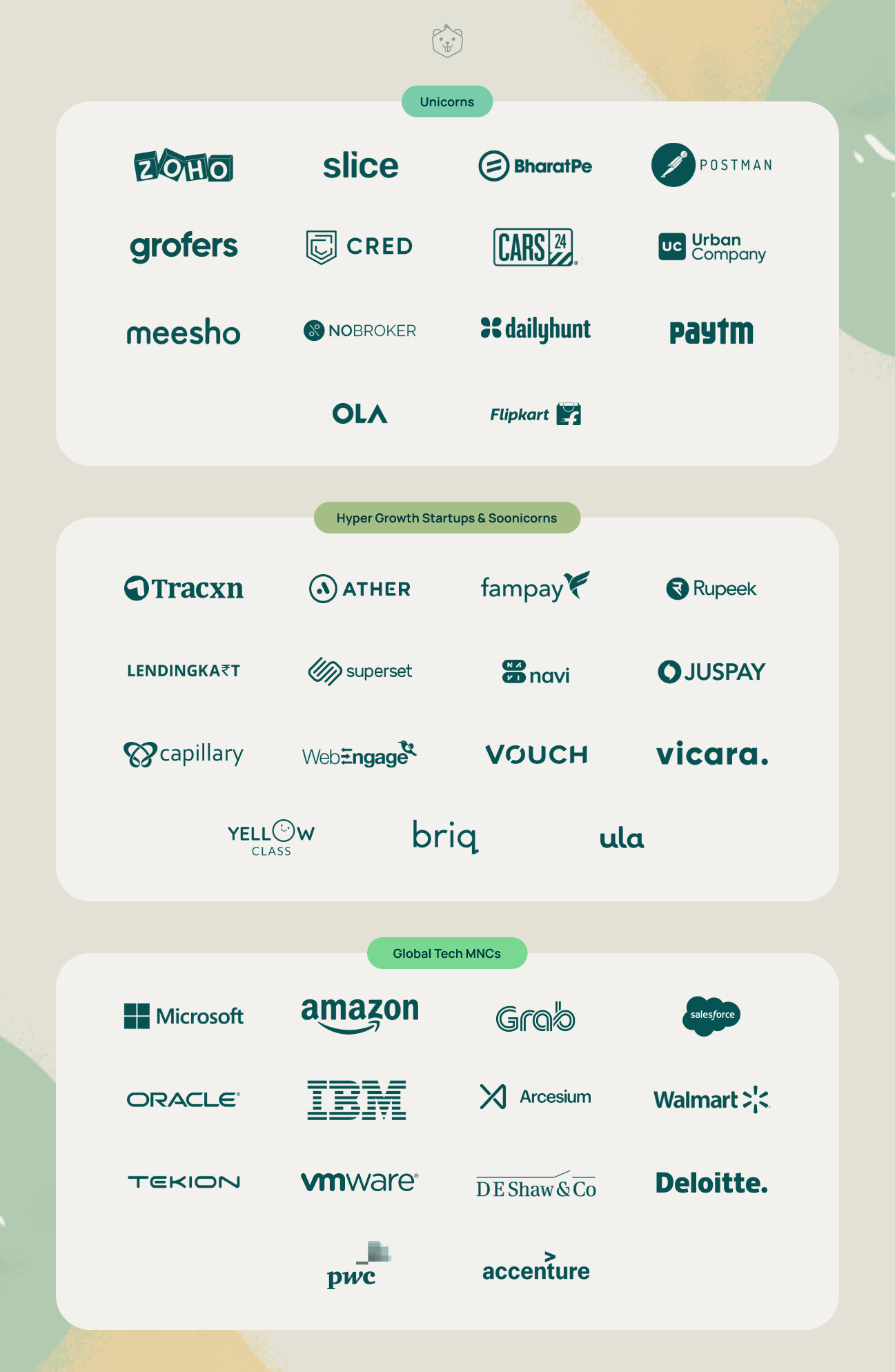 Comment the company name in the comment and we'll get that info added to the blog for you.